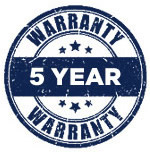 Description
Wide Dynamic Range (WDR) cameras automatically balance lighting for a clearer image. Normal cameras struggle to pick up details in areas of bight light or dark shadows, particularly when they are transitioning between the two. WDR cameras automatically adjust exposure for a clear picture even in difficult lighting conditions.
Features
• 5 Infrared LEDs for ultra-low light performance
• 5m illumination distance
• Heater
• Microphone
• Day / Night sensor
• 1/3" Sony CCD
• TV System: PAL
• Viewing angle: 101 x 27 x 133
• TV lines: 450
• Approvals: IP68, CE marked, E-Marked: UNECE R10 compliant, FCC approved, IC Approved, ISO 20653:2006, ISO 13766:2006, EN 13309:2010. Camera monitor system is R46 approved.
Dimensions
L 83 x H 72 x D 80mm